BRISMES Award for Services to Middle Eastern Studies
About the Award
This is an honorary award established in 2000 by BRISMES Council. It is presented annually in recognition of outstanding services to Middle Eastern Studies.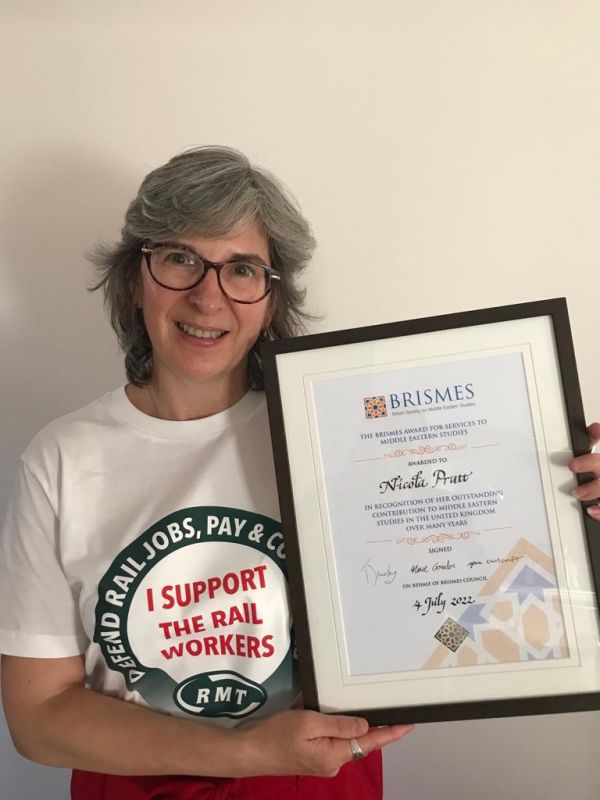 Nicola Pratt (Professor of International Politics of the Middle East, University of Warwick) is the author of several books, including most recently Embodying Geopolitics: Generations of Women's Activism in Egypt, Jordan and Lebanon, which was the winner of the Susan Strange Best Book Prize for 2020. She has also written numerous articles and book chapters and served as a PI on a number of research projects. She is a stellar academic that has made a mark on a number of fields, not least democratisation and gender and politics in the Middle East.

Between 2010 and 2013, she was the co-director of an international research partnership between Warwick and Birzeit University. She was Associate Editor of the British Journal of Middle Eastern Studies for 6 years, a trustee of the Council for British Research in the Levant and Vice President of BRISMES from 2019 to 2021.

During her tenure at BRISMES, she together with a few other people radically transformed the association putting issues that are close to her heart centre stage. She helped democratise the association, breaking down hierarchies that existed for decades, she emphasized the need to support students and early career scholars, she continuously struggled for academic freedom and freedom of speech, and gender politics was key to everything she did.
Terms of Reference
The award is intended for persons or organisations who have made a consistent contribution to Middle East Studies in Britain over a period of years or to a person or organisation who has made an outstanding single contribution over the previous year. Anyone or any organisation fulfilling these criteria, as specified below, is eligible, without exception on the basis of nationality, residence, profession or background. The following are guidelines to the criteria that BRISMES will consider but BRISMES will accept nominations outside these guidelines if the proposer makes a persuasive case for doing so.
For an outstanding record in published research on the Middle East;
For the establishment of new departments or significantly expanding positions in the field of Middle East Studies;
For providing/winning major new resources for Middle East Studies in Britain;
For exceptional contributions to raising the profile of Middle East Studies in and outside the UK.
2001-2019 Recipients
Paul Auchterlonie (2018)
Professor Charles Tripp (2017)
Sir Roger Tomkys (2016)
Professor Carole Hillenbrand, CBE (2015)
Professor Ian Netton (2014)
Alastair Newton (2013)
Professor the Baroness Afshar, OBE (2012)
Sir Harold Walker (2011)
Patrick Seale (2010)
Professor Roger Owen (2009)
Professor Fred Halliday (2008)
Professor Edmund Bosworth (2007)
Professor Harry Norris (2006)
Professor Geoffrey Lewis (2005)
Professor Ann Lambton (2004)
Dr Derek Hopwood, OBE (2003)
Professor William Montgomery Watt (2002)
HH Dr Sheikh Sultan bin Muhammad Al-Qasimi (2001)
Database of Expertise
The Database of Expertise in Middle Eastern and Islamic Studies provides a publicly available list of MENA experts with their research and areas of expertise.
Search Now