BRISMES Award for Services to Middle Eastern Studies
About the Award
This is an honorary award established in 2000 by BRISMES Council. It is presented annually in recognition of outstanding services to Middle Eastern Studies.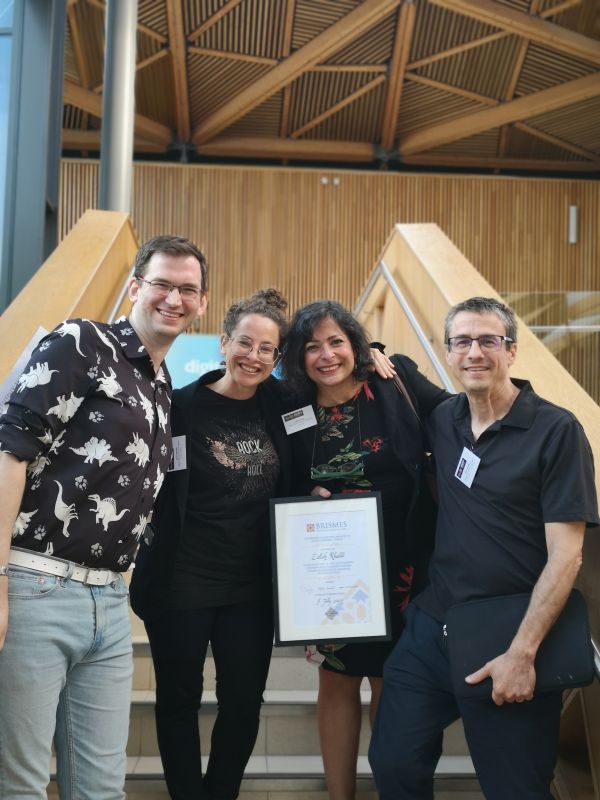 Laleh Khalili (Professor of Gulf Studies at the University of Exeter) is a prolific academic, widely respected across the world for her research, and for how her work has shaped how we understand the politics, societies and economies of the Middle East. Many Middle East Studies scholars will be familiar with her books Heroes and Martyrs of Palestine: The Politics of National Commemoration; Time in the Shadows: Confinement in Counterinsurgency; and Sinews of War and Trade: Shipping and Capitalism in the Arabian Peninsula; as well as her many articles and reviews; her fantastic blog, and her beguiling social media - especially the pictures of food she cooks and takes so much pleasure in.
While the BRISMES Service Award is given in recognition of Laleh's innumerable contributions to the field through her corpus of published work, more fundamentally it is awarded for her wider contributions to Middle Eastern Studies as a teacher, colleague and mentor. In preparing to give this award, we reached out to some of Laleh's former and current colleagues, friends, and especially her students. They showered her with praise and affection in reflections littered with superlatives, which demonstrates the extraordinary care, generosity and support for which she is widely and justifiably known. She is solidaristic and non-hierarchical; one of the rare professors on the picket line (come rain, shine or snow); and brings her characteristic clarity, energy, and wit to those collective struggles, all the while offering exceptional support and mentorship to her colleagues, and especially to early career scholars.
Terms of Reference
The award is intended for persons or organisations who have made a consistent contribution to Middle East Studies in Britain over a period of years or to a person or organisation who has made an outstanding single contribution over the previous year. Anyone or any organisation fulfilling these criteria, as specified below, is eligible, without exception on the basis of nationality, residence, profession or background. The following are guidelines to the criteria that BRISMES will consider but BRISMES will accept nominations outside these guidelines if the proposer makes a persuasive case for doing so.
For an outstanding record in published research on the Middle East;
For the establishment of new departments or significantly expanding positions in the field of Middle East Studies;
For providing/winning major new resources for Middle East Studies in Britain;
For exceptional contributions to raising the profile of Middle East Studies in and outside the UK.
2001-2021 Recipients
Paul Auchterlonie (2018)
Professor Charles Tripp (2017)
Sir Roger Tomkys (2016)
Professor Carole Hillenbrand, CBE (2015)
Professor Ian Netton (2014)
Alastair Newton (2013)
Professor the Baroness Afshar, OBE (2012)
Sir Harold Walker (2011)
Patrick Seale (2010)
Professor Roger Owen (2009)
Professor Fred Halliday (2008)
Professor Edmund Bosworth (2007)
Professor Harry Norris (2006)
Professor Geoffrey Lewis (2005)
Professor Ann Lambton (2004)
Dr Derek Hopwood, OBE (2003)
Professor William Montgomery Watt (2002)
HH Dr Sheikh Sultan bin Muhammad Al-Qasimi (2001)
Database of Expertise
The Database of Expertise in Middle Eastern and Islamic Studies provides a publicly available list of MENA experts with their research and areas of expertise.
Search Now