Nicola Pratt receives Award for Services to Middle East Studies
It was with great pleasure that we awarded Professor Nicola Pratt the BRISMES Award for Services to Middle Eastern Studies at our 2022 Annual Conference in St Andrews. This is an honorary award established in 2000 by BRISMES Council. It is presented annually in recognition of outstanding services to Middle Eastern Studies.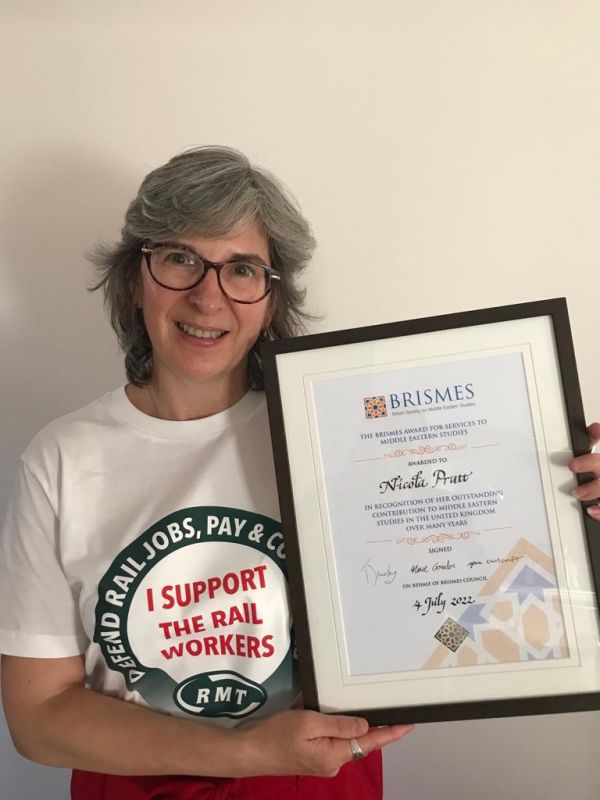 Nicola Pratt (Professor of International Politics of the Middle East, University of Warwick) is the author of several books, including most recently Embodying Geopolitics: Generations of Women's Activism in Egypt, Jordan and Lebanon, which was the winner of the Susan Strange Best Book Prize for 2020. She has also written numerous articles and book chapters and served as a PI on a number of research projects. She is a stellar academic that has made a mark on a number of fields, not least democratisation and gender and politics in the Middle East.


Between 2010 and 2013, she was the co-director of an international research partnership between Warwick and Birzeit University. She was Associate Editor of the British Journal of Middle Eastern Studies for 6 years, a trustee of the Council for British Research in the Levant and Vice President of BRISMES from 2019 to 2021.

During her tenure at BRISMES, she together with a few other people radically transformed the association putting issues that are close to her heart centre stage. She helped democratise the association, breaking down hierarchies that existed for decades, she emphasized the need to support students and early career scholars, she continuously struggled for academic freedom and freedom of speech, and gender politics was key to everything she did.